Alabama Department of Veterans Affairs Takes Precautionary Measures to Protect Employees and Veterans from COVID-19 Virus (Coronavirus).
Click here for full statement and additional information.
Click here for a Video Message from Commissioner Kent Davis regarding the COVID-19 Virus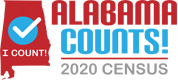 It is vitally important that all Alabama citizens participate in the 2020 census to maintain congressional representation, improve roads and bridges, health care and so much more. Click here for more information.