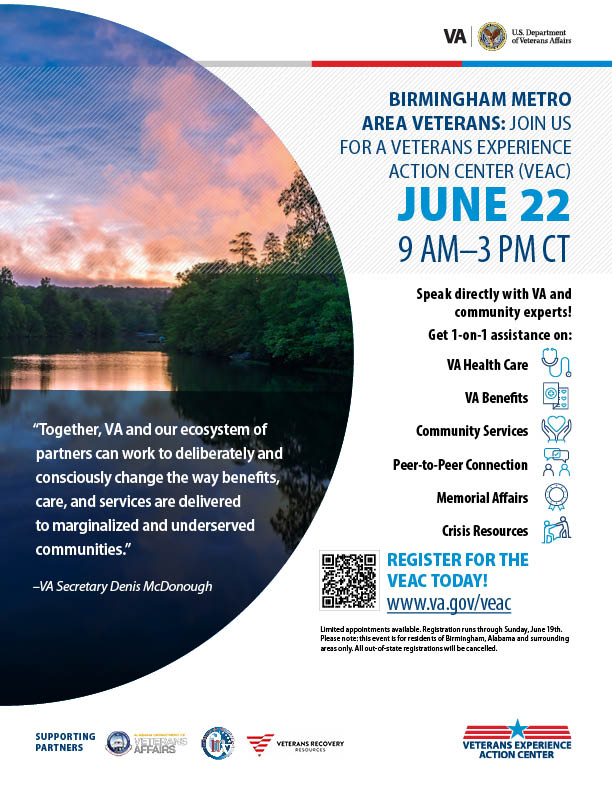 Birmingham Metro Area Veterans Experience Action Center
Hey Birmingham Alabama Metro Area! VA and our partners will host a virtual event for all Birmingham Metro Area Veterans, caregivers, service members, and survivors on Wednesday, June 22nd.
Are you looking to get a status on your claim? Sign up for VA health care? Whatever it is, we're here to help. Schedule an appointment to speak directly with us and get dedicated one-on-one service!
On June 22nd, from 9AM – 3PM CT, Veteran Service Officers, VA experts, and community partners are coming together to help YOU obtain the benefits and services you have earned! At the time of your appointment, a Veteran Service Officer will call you—via telephone—to kick off your appointment. We look forward to connecting with you!
The list of services available includes:
-VA Claims and Appeals Filing and Status Updates
-VA Healthcare Eligibility and Enrollment
-VA and Alabama State Veterans Benefits
Family Member, Caregiver, and Survivor Benefits and Services
-Community Services & Peer-to-Peer Networking Referral
-Education, Employment, and Pro Bono Legal Referral
Appointments are available from 9AM – 3PM CT on Wednesday, June 22nd. When registering, you will have the option to schedule the virtual appointment time that best fits with your availability.
Please register for the VEAC by Monday, June 20th for this space-limited event. To register, visit www.va.gov/VEAC.