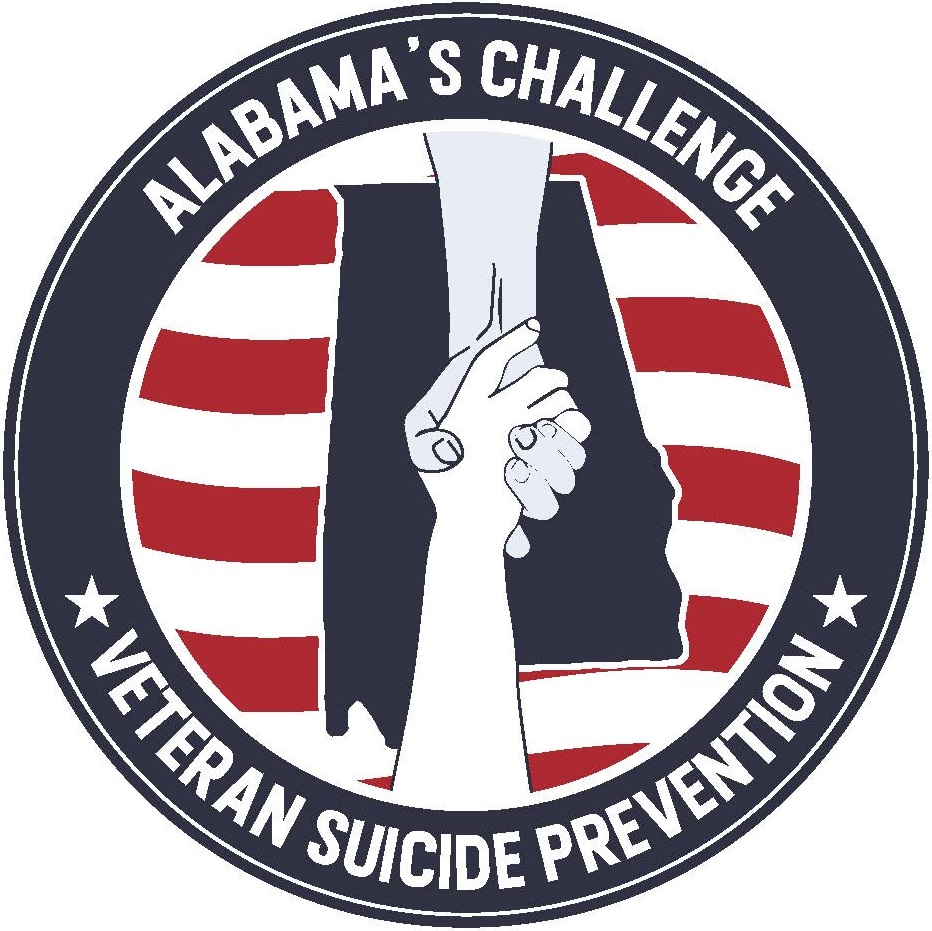 Suicide knows no boundaries.
It can affect any age group, gender, or race. It has nothing to do with income or education. Suicide can become a tragedy for anyone. Veterans sign up to protect our country, but there is often a price to service that Veterans did not sign up for — trauma that follows.
Alabama is proud of its military, with more than 9% having served our country. However, the state also faces the tragic reality of having one of the nation's highest Veteran suicide rates. In 2020, 152 Veterans in Alabama took their own lives, which represented 18% of the state's suicides.
It's time we address this issue head on.
Alabama's Challenge for Preventing Suicide Among Service Members, Veterans, and their Families (SMVF) is an initiative aimed to create an impactful, long-term outcome across the state as we continue fighting a stigma with mental illness.
Raising awareness of suicide prevention can help us understand the event and circumstances that lead to mental health issues. The Alabama Department of Veterans Affairs is a lead agency within Alabama's Challenge and assists with connecting with SMVF to provide information and knowledge about suicide, provide support, and provide resources and options to deal with PTSD and crisis situations.
In February 2022, Alabama's Challenge launched a statewide campaign of holding a town hall and Veterans resources and job fair in various cities around the state. The first event was held in Dothan, with the second scheduled for Mobile on May 23. Alabama's Challenge plans to hold future events in Tuscaloosa, Huntsville, Birmingham, and Montgomery.
Suicide Prevention Resources
STATE
The Crisis Center (Central Alabama)
Main Line: 205-323-7777
Teen Line: 205-328-LINK (54365)
Kids' Help Line: 205-328-KIDS (5437)
Senior Talk Line: 205-328-TALK (8255)
24/7 service to serve unmet needs of people experiencing crisis and mental health issues. Service area includes Blount, Chilton, Jefferson, St. Clair, Shelby, and Walker counties.
Crisis Services of North Alabama
256-716-1000 or 1-800-691-8426
Free resource for individuals and families in crisis for all races and ethnicities, religions, gender identities, sexual orientations, and ages.
Alabama Crisis System of Care
Located in Mobile, Montgomery, and Huntsville, these centers are individualized to the unique needs of the communities they serve.
AltaPointe Health
251-450-2211
The Behavioral Health Crisis Center is located in Mobile County and serves Baldwin, Washington, Clark, Conecuh, Escambia, and Monroe Counties.
Montgomery Area Mental Health Authority
334-279-7830
This center is located in Montgomery, serving the entire River Region, and the counties of Chambers, Lee, Russell, and Tallapoosa, in partnership with the community mental health centers of East Alabama and East Central Alabama.
WellStone
256-705-6444
The WellStone Emergency Services Crisis Center is located in Huntsville, serving Cullman and Madison counties and the surrounding counties of Fayette, Lamar, Marion, Walker, Winston, Lawrence, Limestone, Morgan, Jackson, Marshall, Cherokee, Dekalb, and Etowah.
Veterans Recovery Resources
866-648-7334
Accelerating Veteran well-being by removing the barriers to mental healthcare and providing a unique recovery program for Veterans and their families suffering from substance abuse, post-traumatic stress and other mental health issues.
Krulak Marine Alliance of Alabama
205-995-8495
Create, plans, and coordinates local, regional, and state activities and fundraising events, solo or in partnership with 501(c) non-profit organizations, corporations, and/or communities to honor and/or aid Marines and their family members facing hardship.
Still Serving Veterans
866-778-4645
Offers a variety of services dedicated to helping Veterans and their families locate meaningful employment, access the VA benefits they've earned, and get connected to the community resources they need.
Family Counseling Center of Mobile, Inc.
251-431-5111 or 1-800-239-1117
Offers help for individuals and families live more productive lives through counseling, assistance, referrals, and education. Provides 24/7 service through United Way of Southwest Alabama 2-1-1.
NATIONAL
Veterans Crisis Line
988, Press 1 for Veterans,
24/7 Phone, chat, and text
Additional services available for the deaf and hard of hearing 800-799-4889
Vets 4 Warriors
855-838-8255
24/7 confidential peer support network
Phone, chat, text, email for Veterans, service members, family members, caregivers
Psychological Health Resource Center
866-966-1020
24/7 phone, chat, email for Service members, veterans, family members, clinicians, commanders, or anyone with a question about psychological health in the military.
Military One Source
1-800-342-9647
24/7 confidential phone and chat for Veterans, service members, and their families
TAPS National Military Survivor Helpline
1-800-959-TAPS (8277)
24/7 phone and chat for military families and loss survivors
National Alliance on Mental Illness
Call the NAMI Helpline at 1-800-950-NAMI
Or in a crisis, text "NAMI" to 741741
Coaching into Care
888-823-7458
National telephone service of the VA that aims to educate, support, and empower family members and friends who are seeking care or services for a Veteran. Services are free of charge and aim to help callers figure out how to motivate the Veteran to seek assistance.
Safe Helpline
877-995-5247
Crisis support service for members of the Department of Defense who have been affected by sexual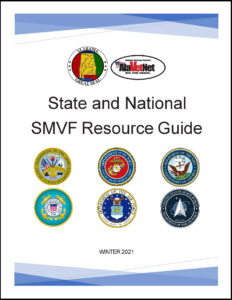 Shareable Materials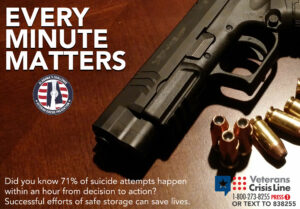 Click here to download a printable version of Every Minute Matters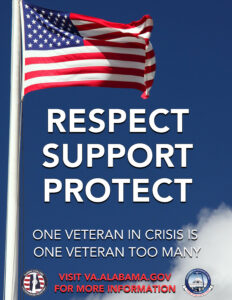 Click here to download a printable version of Respect, Support, Protect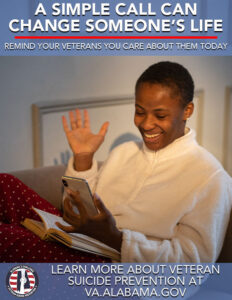 Click here to download a printable version of A Simple Call
Public Service Announcements
The History of Alabama's Challenge
Alabama's Challenge is an aligned effort between the legislative Task Force on Veterans' Suicide and the Governor's Challenge to Prevent Suicide Among SMVF, which share a significant overlap in goals and team membership. The efforts were aligned in March 2021 through HJR 28, which also extended the Alabama Task Force on Veterans' Suicide created by HJR 151 through the last legislative day of the 2022 Regular Session.
HJR 151, which established the legislative Task Force on Veterans' Suicide, was proposed by Rep. Neil Rafferty and passed in May 2019. Rep. Rafferty, a Marine veteran, saw a need to investigate the causes of and prevention of suicides among veterans after a friend and fellow Marine veteran died by suicide.
A continuing stigma with mental illness is a tragic reality for Veterans, with approximately 17 veterans in the U.S. dying by suicide per day. In Alabama, the veteran suicide rate is even higher than the national veteran average and significantly higher than the national civilian average.
Recently released data shows nearly 18% of those who died by suicide in Alabama are veterans, though only 9.1% of Alabamians have served. Male veterans die by suicide at a rate 1.3 times higher than civilian counterparts, and for women veterans it is 2.1 times higher.
This crisis led to the creation of Alabama's Challenge, an initiative targeted to inform SMVF of resources to ultimately prevent suicide.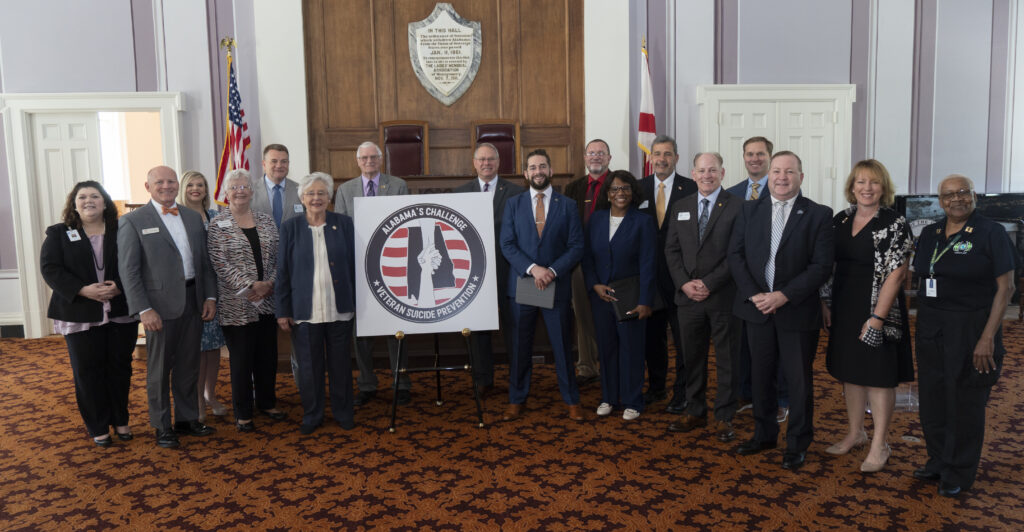 In early 2020, Alabama was invited by the U.S. Department of Veterans Affairs and Substance Abuse and Mental Health Services Administration (SAMHSA) to participate in the Governor's Challenge. The well-established program has three specific focus areas:
Identification and screening of SMVF who might be at risk
Promote connectedness and improve care transitions
Lethal means safety and safety planning
"The Alabama Department of Veterans Affairs is honored to be partnered with Governor Ivey's Office, the Alabama Legislature, the Alabama Department of Mental Health, the Alabama Department of Public Health, and countless other organizations for Alabama's Challenge," said Alabama Department of Veterans Affairs Commissioner Kent Davis. "Suicide prevention is an important conversation within the veteran community, and it takes everyone to battle this tragic reality. We are looking forward to partnering with great resources around the state as we continue to raise awareness about veteran suicide prevention."
To begin the program, the Governor's Challenge team attended webinars on subjects including outreach to rural Veterans, garnering policy support, community collaboration, safe messaging, strategic communications, and engaging veterans at risk. Governor's Challenge objectives include:
Implementing promising, best, and evidence-based practices to prevent and reduce suicide
Engage with city, county, and state stakeholders to enhance and align local and state-wide suicide prevention efforts
Understand the issues surrounding suicide prevention for SMVF
Increase knowledge about the challenges and lessons learned in implementing best policies and practices by using state-to-state and community-to-community sharing
As the initiative continues to grow statewide, a focal point will be hot spots for suicide in Alabama, which will be identified through "heat maps." Branding campaigns are being created and implemented for Alabama's Challenge and public and private sector partners are being contacted to provide further resources for suicide prevention.