Alabama's Challenge for Preventing Suicide Among Servicemembers, Veterans, and their Families (SMVF) is an initiative aimed to create an impactful, long-term outcome across the state as we continue fighting a stigma with mental illness.
The tragic reality for in our nation is approximately 17 Veterans die by suicide per day. In Alabama, the Veteran suicide rate is even higher than the national Veteran average and significantly higher than the national civilian average.
The most recently released data shows nearly 18% of those who died by suicide in Alabama are Veterans, though only 9.1% of Alabamians have served. Male Veterans die by suicide at a rate 1.3 times civilian counters, and for women Veterans it is 2.1 times higher.
Members of the campaign include Gov. Kay Ivey, members of the Alabama Legislature and representatives from the Alabama Department of Veterans Affairs, Alabama Department of Mental Health, Alabama Department of Public Health, Alabama National Guard, and non-profits including Still Serving Veterans and Veterans Recovery Resources.
You can learn more about Alabama's Challenge by clicking here.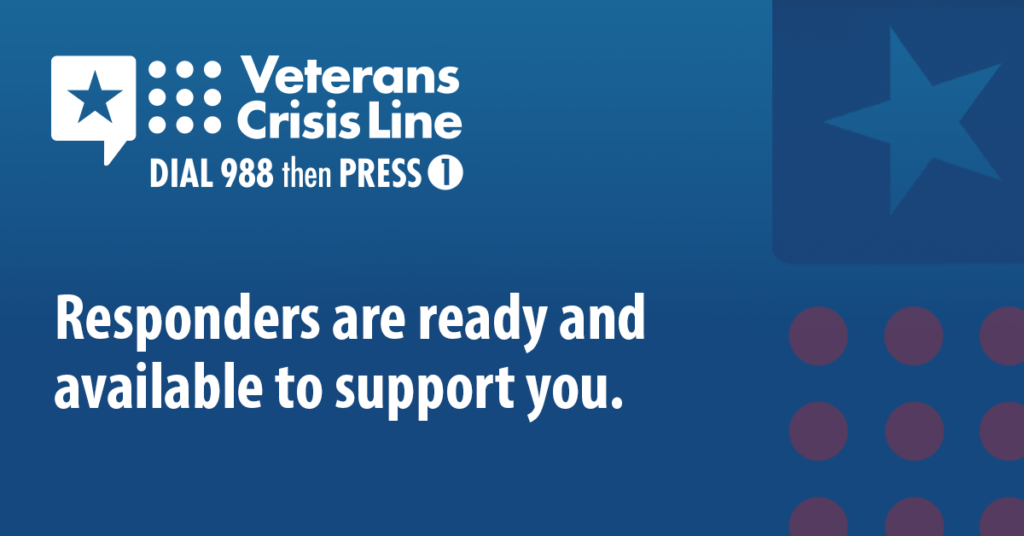 Suicide is a national public health issue that affects all Americans. The health and well-being of our nation's veterans is our highest priority.
Veterans in crisis and their loved ones can call, text, or chat to connect with caring VA responders at the free and confidential Veterans Crisis Line, even if you're not registered with VA or enrolled in VA health care. Responders are specially trained and experienced in helping veterans of all ages and circumstances to deal with any immediate crisis.
Learn to recognize red flags
People can experience an emotional or mental health crisis due to a wide range of situations. For veterans, these crises can be heightened by their experiences during military service. Veterans in crisis may show behaviors that indicate a risk of self-harm.
The following can all be warning signs:
Appearing sad or depressed most of the time
Hopelessness; feeling like there's no way out
Anxiety, agitation, sleeplessness, or mood swings
Feeling as if there is no reason to live
Feeling excessive guilt, shame, or sense of failure
Rage or anger
Engaging in risky activities without thinking
Losing interest in hobbies, work, or school
Increasing alcohol or drug misuse
Neglecting personal welfare; a deteriorating physical appearance
Withdrawing from family and friends
Showing violent behavior, like punching a hole in the wall or getting into fights
Giving away prized possessions
Getting affairs in order, tying up loose ends, or writing a will
Suicide Prevention Resources
Veterans Crisis Line
1-800-273-TALK (8255) Press 1 for Veterans,
24/7 Phone, chat, and text
Additional services available for the deaf and hard of hearing (800)-799-4889
Vets 4 Warriors
855-838-8255
24/7 confidential peer support network
Phone, chat, text, email for Veterans, service members, family members, caregivers
Psychological Health Resource Center
866-966-1020
24/7 phone, chat, email for Service members, veterans, family members, clinicians, commanders, or anyone with a question about psychological health in the military.
Military One Source
1-800-342-9647
24/7 confidential phone and chat for Veterans, service members, and their families
TAPS National Military Survivor Helpline
1-800-959-TAPS (8277)
24/7 phone and chat for military families and loss survivors
National Alliance on Mental Illness
Call the NAMI Helpline at 1-800-950-NAMI
Or in a crisis, text "NAMI" to 741741
Firearm Safety
The Veterans Crisis Line gun safety video illustrates the importance of taking precautions at home when a firearm is present. It encourages Veterans, Service members, and their families to make sure guns are safely secured, especially in times of crisis. Watch to learn how simple actions can help Veterans, Service members, and their families stay safe.
Learn more about how you and your family can be there for a Veteran or Service member in crisis at bethereforveterans.com.